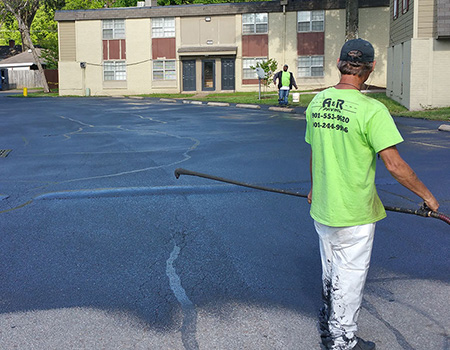 If you're thinking about investing in or have recently purchased a new asphalt driveway, you should consider the many benefits associated with asphalt sealcoating in Memphis, TN. Sealcoating allows you to protect your investment and maximize the lifespan of your asphalt driveway, roadway or parking lot.
A&R Paving is a trusted provider of driveway sealcoating in Memphis, Lakeland, Germantown, and Bartlett, TN. We're proud to provide our clients with high-quality, dependable sealcoating services that exceed expectations and serve to protect their investment in asphalt. Purchasing a new sealcoat for your asphalt surface can help you extend your investment and save you money over time.
Benefits of Sealcoating
A&R Paving provides asphalt sealcoating services for residential, commercial and industrial consumers. Sealcoating is a liquid that, when applied to an asphalt surface, protects it from moisture, ultraviolet rays, oxidation, chemical spills and more. Here are just some of the benefits associated with an investment in sealcoating services:
Saves money:
The most significant benefit of driveway sealcoating is that it saves you the economic pain of costly repairs and wholesale replacements later on down the road.
Fills surface damage:If there are small amounts of surface damage on your asphalt surface, investing in sealcoating is an excellent way to mitigate potential negative effects.
Accelerates melting: During cold weather events, asphalt sealcoating actually accelerates the speed at which snow and ice melt. This makes your asphalt surface safer, faster.
Protects from fluids: Moisture is asphalts primary enemy—over time, water and automotive fluids can cause your asphalt to degrade. Sealcoating prevents this.
Good looking: Sealcoating preserves a glossy black sheen on your asphalt—this enhances your building's curb appeal, and makes it appear well-cared for.
Schedule Sealcoating Services
Sealcoating should be applied both directly after asphalt installation, and periodically afterward. To learn more about your potential driveway sealcoating needs and to schedule asphalt sealcoating, paving, and repair services, contact A&R Paving today at 901-553-9620.