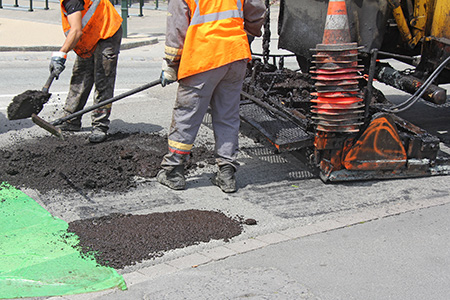 If your asphalt driveway or surface is in generally good shape but could stand to benefit from a little bit of care, consider the benefits of investing in asphalt repairs. Repairing your asphalt or stone driveway can help you prolong its life, as well as the life of any vehicles that use it.
A&R Paving is a premier provider of asphalt repair in Memphis, Lakeland, Germantown, and Bartlett, TN. We offer comprehensive asphalt repair solutions. If your driveway is in poor condition, we'll also discuss potential replacement options with you.
Repair Options
We offer a robust scope of asphalt repairs as well as stone driveway repairs. Here are just some of the asphalt repair services A&R Paving provides:
Patching:
If your asphalt surface is covered in potholes or depressions, we'll perform skin patching. This involves us cleaning out the existing depression, priming it and pouring new asphalt that's consistent with your existing surface.
Grading:
Stone or gravel driveways often become rutty and difficult to drive on over time. Additionally, their ability to drain excess water can degrade rapidly, which causes an elevated flood risk. It's important to invest in driveway grading regularly.
Resurfacing:
If your entire asphalt surface is looking faulty, you may want to consider investing in resurfacing. This preserves the base of your driveway, parking lot or roadway while replacing the entire surface. It's an effective means of driveway repair in Memphis, TN.
Each of our clients receives a free on-site evaluation and cost estimate. If you're unsure about how much it may cost to repair your existing asphalt surface, our friendly paving professionals will walk you through the expenses associated with repairing your driveway, parking lot or thoroughfare.
Invest in Paving Repair
Investing in asphalt repair, paving, and sealcoating today can save the expenses of asphalt surface replacement later on down the road. Contact us at A&R Paving at 901-553-9620 to schedule your consultation.