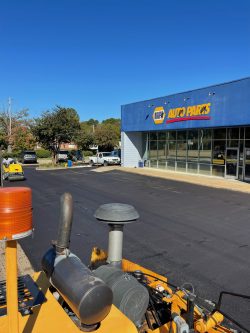 A&R Paving offers comprehensive asphalt paving solutions for homes and businesses. We're proud to provide industrial, commercial and residential clients with a robust range of services, capable of meeting virtually every need. Whether you're looking to repave your home's driveway or are in need of an industrial-scale parking lot, you can count on our asphalt and driveway pavers to deliver high-quality paving services.
Because we serve a diverse client base, we offer a diverse menu of services. Our friendly and professional representatives are committed to identifying and implementing paving solutions designed to address both the constraints of your site and your specific usage requirements.
Paving Services
Here are just some of the asphalt paving services offered by A&R Paving in Memphis, Lakeland, Germantown, and Bartlett, TN:
Tar and chip paving:
During the tar and chip paving process, we combine crushed stone and liquid asphalt to create a natural-looking, long-lasting surface that both superior traction and excellent curb appeal.
Crushed gravel installation:
We offer crushed gravel installation; both as a base for an asphalt service, and as a standalone driveway. Our affordable crushed gravel installation services are always performed correctly.
Asphalt driveway paving:
Whether you're hoping to install an entirely new asphalt driveway at your residential property or are needing to replace an existing service, we're the right driveway paving company for the job.
Parking lots and roadways:
No job is too big or complex for our teams. If you're an industrial or commercial client in need of a large-scale parking lot or roadway installation, reach out to us today!
Arrange Asphalt Paving Services
To learn more about our robust range of asphalt paving, repair, and sealcoating services and to schedule your free on-site evaluation and cost estimate, contact one of our friendly driveway pavers today at 901-553-9620.